NZ$95 per person, Sunday, Tuesday and Thursday nights (February - November)
On other days we can offer private tours NZ$350 1-4 people
Private tour per group 5-12 people, NZ$600.
Lakestone Lodge is one of the best places in the world to see the Milky Way – our grounds are in the heart of the Aoraki Mackenzie International Dark Sky Reserve, so no man-made lights or passing airplanes will interrupt your view.
In our accessible facility, you'll lie back in a recliner chair, snug in a warm woollen blanket with hot mulled wine, chocolate, tea or coffee for a guided tour of the Milky Way.
Kick back, relax and you might get to see the following features with your naked eye without the impact of light pollution:
More stars than most people have ever seen in their lives
The mind-blowing glow of billions of stars
Shooting stars
Satellites passing overhead
Planets
The Southern Cross
The Milky Way
Constellations
Other galaxies
No airplanes overhead at night here
Craters on the moon, the rings of Saturn and/or Jupiter and up to 4 moons orbiting Jupiter using a powerful telescope (when the moon is visible)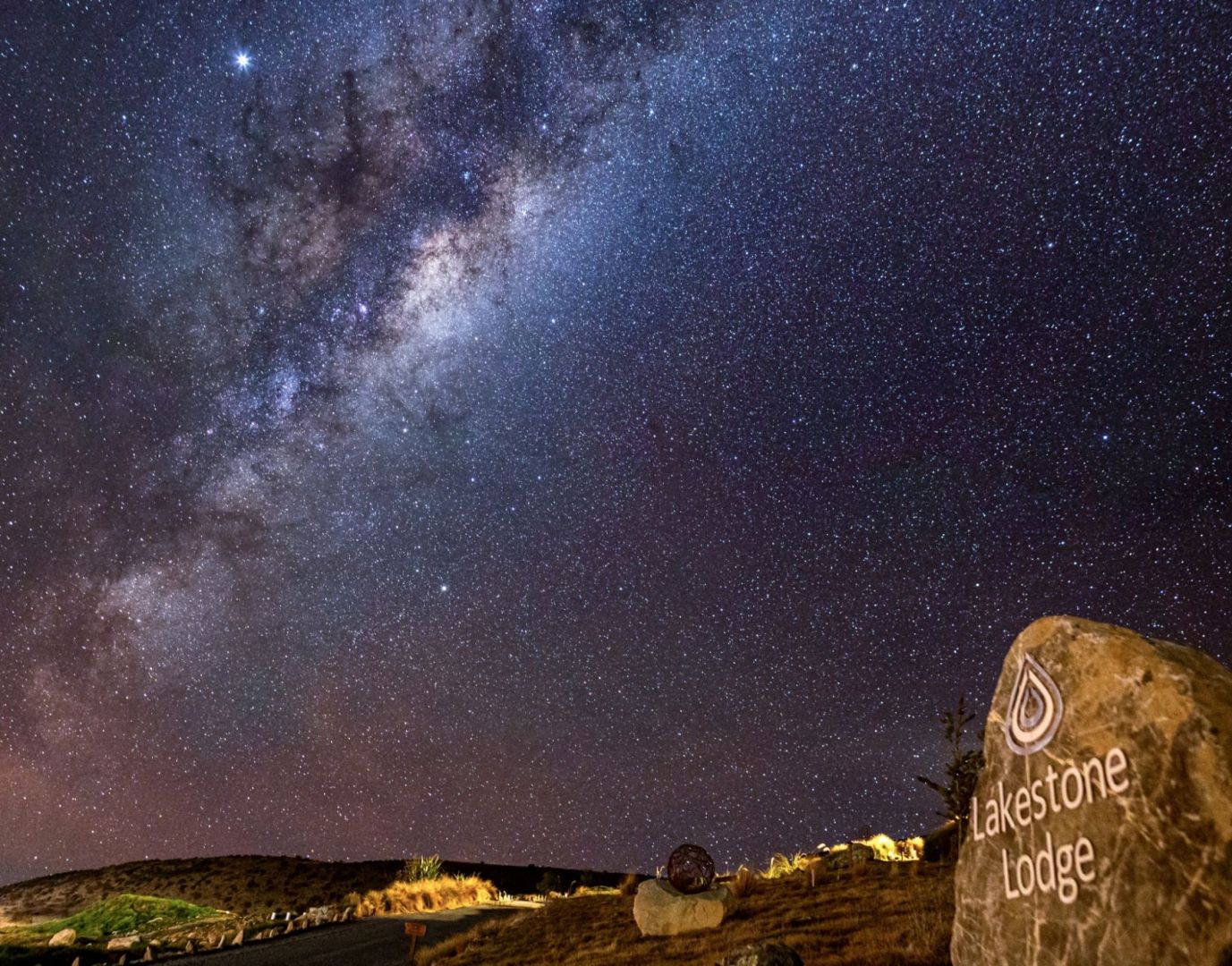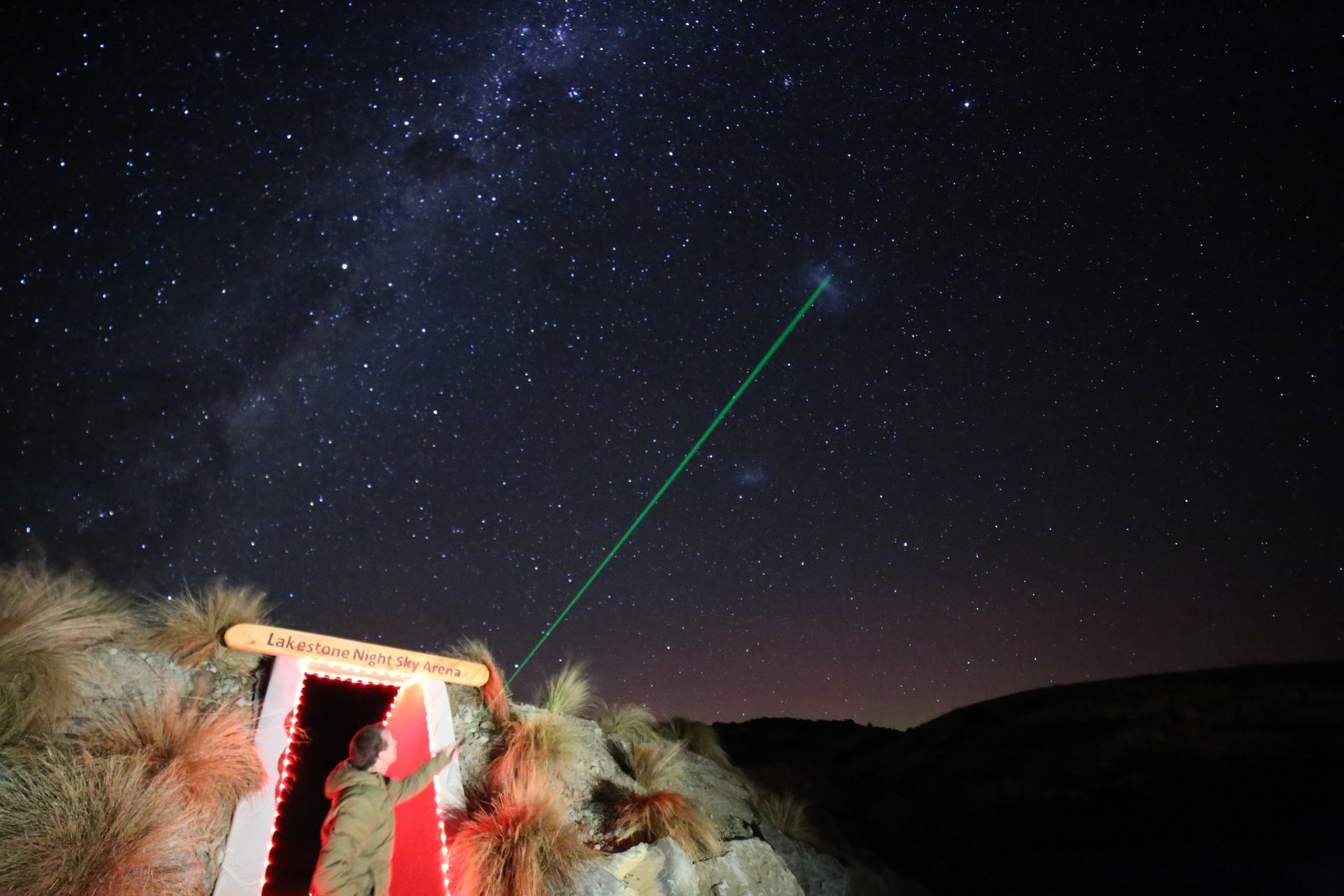 Your guide will point out all the highlights of the southern sky with a special laser pointer, teach you how to navigate using the stars and share interesting stories and facts.
The best times to visit
When the moon is full or near full, it floods the night sky with reflected sunlight and makes the fainter stars impossible to see with the naked eye. You'll have the best experience in winter during the new moon
Cancellations
Tours will be confirmed around 8 pm on the night. If cancelled due to cloud cover there will be no charge/full refund.
If the tour has been booked in advance and is cancelled on the day by the guest or if it is a no show there will be a full charge/no refund.
Staying with us for three to four nights will give you the best chance at an uninterrupted view of the stars.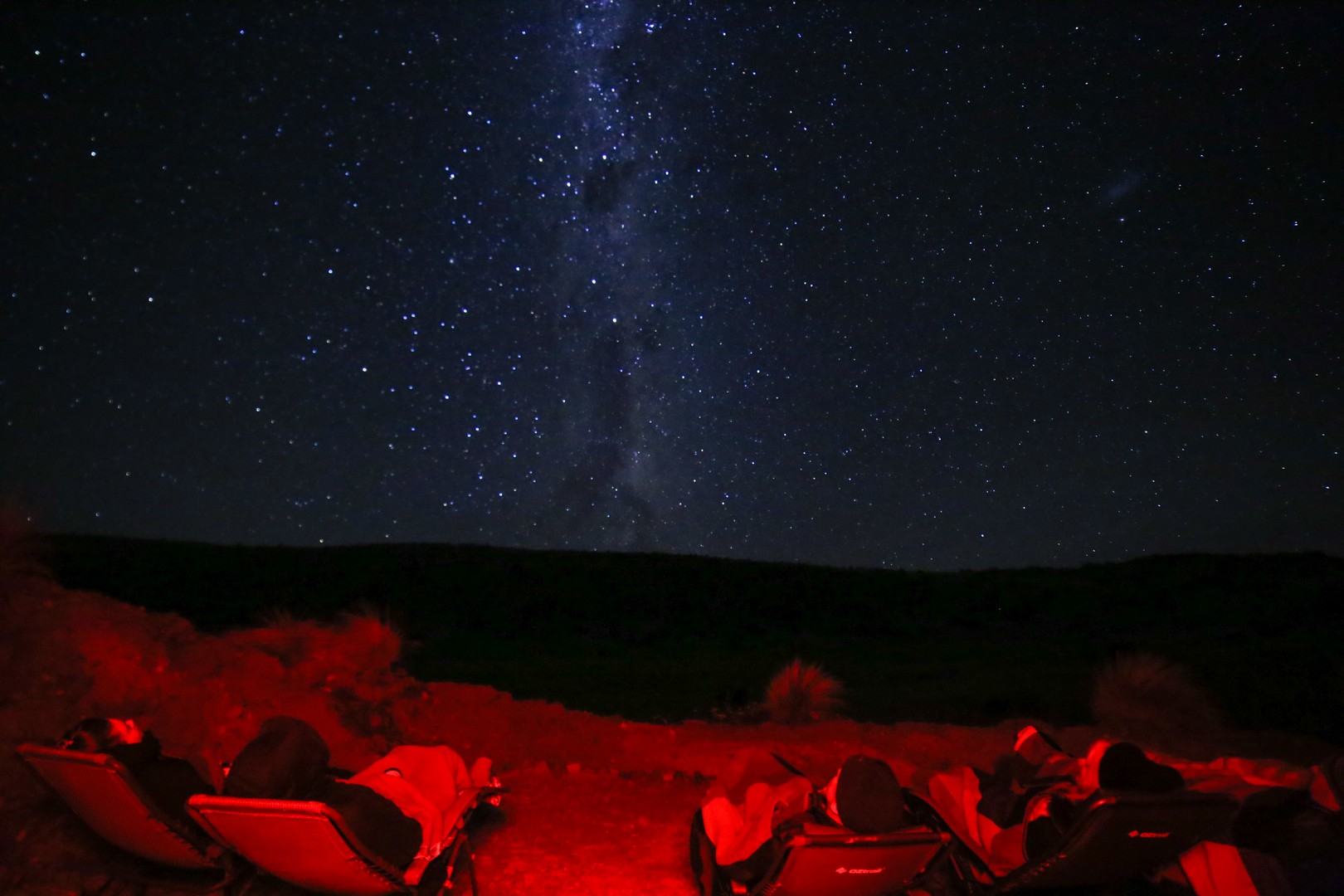 Below is a schedule of tour times and the best time to see the stars
***** = Excellent
**** = OK - most faint stars are still visible
*** = Faint stars are hard to see, ideally visit Lakestone at another time to see the stars
** = Only the brightest stars are visible, ideally visit Lakestone at another time to see the stars
* = The worst time to see the night sky, ideally visit Lakestone at another time to see the stars
| | | | |
| --- | --- | --- | --- |
| Date | Time | Star Rating | Notes |
| 2023 December 03 Sunday | 11:00pm | *** | No scheduled tour as it's too late. Must book private tour in advance. |
| 2023 December 05 Tuesday | 11:00pm | *** | No scheduled tour as it's too late. Must book private tour in advance. |
| 2023 December 07 Thursday | 11:00pm | *** | No scheduled tour as it's too late. Must book private tour in advance. |
| 2023 December 10 Sunday | 11:00pm | *** | No scheduled tour as it's too late. Must book private tour in advance. |
| 2023 December 12 Tuesday | 11:00pm | *** | No scheduled tour as it's too late. Must book private tour in advance. |
| 2023 December 14 Thursday | 11:00pm | *** | No scheduled tour as it's too late. Must book private tour in advance. |
| 2023 December 17 Sunday | 11:00pm | ** | No scheduled tour as it's too late. Must book private tour in advance. |
| 2023 December 19 Tuesday | 11:00pm | ** | No scheduled tour as it's too late. Must book private tour in advance. |
| 2023 December 21 Thursday | 11:00pm | * | No scheduled tour as it's too late. Must book private tour in advance. |
| 2023 December 24 Sunday | 11:00pm | * | No guide available |
| 2023 December 26 Tuesday | 11:00pm | * | No guide available |
| 2023 December 28 Thursday | 11:00pm | * | No guide available |
| 2023 December 31 Sunday | 11:00pm | * | No guide available |
| 2024 January 02, Tuesday | 11:00pm | * | No guide available |
| 2024 January 04, Thursday | 11:00pm | * | No scheduled tour as it's too late. Must pre-book private tour in advance. |
| 2024 January 07, Sunday | 11:00pm | * | No scheduled tour as it's too late. Must pre-book private tour in advance. |
| 2024 January 09, Tuesday | 11:00pm | * | No scheduled tour as it's too late. Must pre-book private tour in advance. |
| 2024 January 11, Thursday | 11:00pm | * | No scheduled tour as it's too late. Must pre-book private tour in advance. |
| 2024 January 14, Sunday | 11:00pm | * | No scheduled tour as it's too late. Must pre-book private tour in advance. |
| 2024 January 16, Tuesday | 11:00pm | * | No scheduled tour as it's too late. Must pre-book private tour in advance. |
| 2024 January 18, Thursday | 11:00pm | * | No scheduled tour as it's too late. Must pre-book private tour in advance. |
| 2024 January 21, Sunday | 11:00pm | * | No scheduled tour as it's too late. Must pre-book private tour in advance. |
| 2024 January 23, Tuesday | 11:00pm | * | No scheduled tour as it's too late. Must pre-book private tour in advance. |
| 2024 January 25, Thursday | 11:00pm | * | No scheduled tour as it's too late. Must pre-book private tour in advance. |
| 2024 January 28, Sunday | 11:00pm | * | No scheduled tour as it's too late. Must pre-book private tour in advance. |
| 2024 January 30, Tuesday | 11:00pm | * | No scheduled tour as it's too late. Must pre-book private tour in advance. |
| 2024 February 01, Thursday | 10:30pm | ***** | |
| 2024 February 04, Sunday | 10:30pm | ***** | |
| 2024 February 06, Tuesday | 10:30pm | ***** | |
| 2024 February 08, Thursday | 10:30pm | ***** | |
| 2024 February 11, Sunday | 10:30pm | ***** | |
| 2024 February 13, Tuesday | 10:30pm | ***** | |
| 2024 February 15, Thursday | 10:30pm | ***** | |
| 2024 February 18, Sunday | 10:30pm | *** | The moon is bright |
| 2024 February 20, Tuesday | 10:00pm | * | The moon is bright |
| 2024 February 22, Thursday | 10:00pm | * | The moon is bright |
| 2024 February 25, Sunday | 10:00pm | * | The moon is bright |
| 2024 February 27, Tuesday | 10:00pm | * | The moon is bright |
| 2024 February 29, Thursday | 10:00pm | ***** | |
| 2024 March 03, Sunday | 10:00pm | ***** | |
| 2024 March 05, Tuesday | 9:30pm | ***** | |
| 2024 March 07, Thursday | 9:30pm | ***** | |
| 2024 March 10, Sunday | 9:30pm | ***** | |
| 2024 March 12, Tuesday | 9:30pm | ***** | |
| 2024 March 14, Thursday | 9:30pm | ***** | |
| 2024 March 17, Sunday | 9:30pm | *** | The moon is bright |
| 2024 March 19, Tuesday | 9:00pm | * | The moon is bright |
| 2024 March 21, Thursday | 9:00pm | * | The moon is bright |
| 2024 March 24, Sunday | 9:00pm | * | The moon is bright |
| 2024 March 26, Tuesday | 9:00pm | * | The moon is bright |
| 2024 March 28, Thursday | 9:00pm | * | The moon is bright |
| 2024 March 31, Sunday | 9:00pm | ***** | |
| 2024 April 02, Tuesday | 9:00pm | ***** | |
| 2024 April 04, Thursday | 8:45pm | ***** | |
| 2024 April 07, Sunday | 8:45pm | ***** | |
| 2024 April 09, Tuesday | 8:45pm | ***** | |
| 2024 April 11, Thursday | 8:45pm | ***** | |
| 2024 April 14, Sunday | 8:45pm | ***** | |
| 2024 April 16, Tuesday | 8:45pm | *** | The moon is bright |
| 2024 April 18, Thursday | 8:45pm | * | The moon is bright |
| 2024 April 21, Sunday | 8:45pm | * | The moon is bright |
| 2024 April 23, Tuesday | 8:45pm | * | The moon is bright |
| 2024 April 25, Thursday | 8:45pm | * | The moon is bright |
| 2024 April 28, Sunday | 8:45pm | *** | The moon is bright |
| 2024 April 30, Tuesday | 8:45pm | ***** | |
| 2024 May 02, Thursday | 8:45pm | ***** | |
| 2024 May 05, Sunday | 8:45pm | ***** | |
| 2024 May 07, Tuesday | 8:45pm | ***** | |
| 2024 May 09, Thursday | 8:45pm | ***** | |
| 2024 May 12, Sunday | 8:45pm | ***** | |
| 2024 May 14, Tuesday | 8:45pm | ***** | |
| 2024 May 16, Thursday | 8:45pm | *** | The moon is bright |
| 2024 May 19, Sunday | 8:45pm | * | The moon is bright |
| 2024 May 21, Tuesday | 8:45pm | * | The moon is bright |
| 2024 May 23, Thursday | 8:45pm | * | The moon is bright |
| 2024 May 26, Sunday | 8:45pm | * | The moon is bright |
| 2024 May 28, Tuesday | 8:45pm | ***** | |
| 2024 May 30, Thursday | 8:45pm | ***** | |
| 2024 June 02, Sunday | 8:45pm | ***** | |
| 2024 June 04, Tuesday | 8:45pm | ***** | |
| 2024 June 06, Thursday | 8:45pm | ***** | |
| 2024 June 09, Sunday | 8:45pm | ***** | |
| 2024 June 11, Tuesday | 8:45pm | ***** | |
| 2024 June 13, Thursday | 8:45pm | *** | The moon is bright |
| 2024 June 16, Sunday | 8:45pm | *** | The moon is bright |
| 2024 June 18, Tuesday | 8:45pm | * | The moon is bright |
| 2024 June 20, Thursday | 8:45pm | * | The moon is bright |
| 2024 June 23, Sunday | 8:45pm | * | The moon is bright |
| 2024 June 25, Tuesday | 8:45pm | * | The moon is bright |
| 2024 June 27, Thursday | 8:45pm | ***** | |
| 2024 June 30, Sunday | 8:45pm | ***** | |
| 2024 July 02, Tuesday | 8:45pm | ***** | |
| 2024 July 04, Thursday | 8:45pm | ***** | |
| 2024 July 07, Sunday | 8:45pm | ***** | |
| 2024 July 09, Tuesday | 8:45pm | ***** | |
| 2024 July 11, Thursday | 8:45pm | ***** | |
| 2024 July 14, Sunday | 8:45pm | *** | The moon is bright |
| 2024 July 16, Tuesday | 8:45pm | * | The moon is bright |
| 2024 July 18, Thursday | 8:45pm | * | The moon is bright |
| 2024 July 21, Sunday | 8:45pm | * | The moon is bright |
| 2024 July 23, Tuesday | 8:45pm | * | The moon is bright |
| 2024 July 25, Thursday | 8:45pm | ***** | |
| 2024 July 28, Sunday | 8:45pm | ***** | |
| 2024 July 30, Tuesday | 8:45pm | ***** | |
| 2024 August 01, Thursday | 8:45pm | ***** | |
| 2024 August 04, Sunday | 8:45pm | ***** | |
| 2024 August 06, Tuesday | 8:45pm | ***** | |
| 2024 August 08, Thursday | 8:45pm | ***** | |
| 2024 August 11, Sunday | 8:45pm | ***** | |
| 2024 August 13, Tuesday | 8:45pm | *** | The moon is bright |
| 2024 August 15, Thursday | 8:45pm | * | The moon is bright |
| 2024 August 18, Sunday | 8:45pm | * | The moon is bright |
| 2024 August 20, Tuesday | 8:45pm | * | The moon is bright |
| 2024 August 22, Thursday | 8:45pm | ***** | |
| 2024 August 25, Sunday | 8:45pm | ***** | |
| 2024 August 27, Tuesday | 8:45pm | ***** | |
| 2024 August 29, Thursday | 8:45pm | ***** | |
| 2024 September 01, Sunday | 8:45pm | ***** | |
| 2024 September 03, Tuesday | 8:45pm | ***** | |
| 2024 September 05, Thursday | 8:45pm | ***** | |
| 2024 September 08, Sunday | 8:45pm | ***** | |
| 2024 September 10, Tuesday | 8:45pm | ***** | |
| 2024 September 12, Thursday | 8:45pm | *** | The moon is bright |
| 2024 September 15, Sunday | 8:45pm | * | The moon is bright |
| 2024 September 17, Tuesday | 8:45pm | * | The moon is bright |
| 2024 September 19, Thursday | 8:45pm | * | The moon is bright |
| 2024 September 22, Sunday | 8:45pm | ***** | |
| 2024 September 24, Tuesday | 8:45pm | ***** | |
| 2024 September 26, Thursday | 8:45pm | ***** | |
| 2024 September 29, Sunday | 9:00pm | ***** | |
| 2024 October 01, Tuesday | 9:00pm | ***** | |
| 2024 October 03, Thursday | 9:00pm | ***** | |
| 2024 October 06, Sunday | 9:30pm | ***** | |
| 2024 October 08, Tuesday | 9:30pm | ***** | |
| 2024 October 10, Thursday | 9:30pm | *** | The moon is bright |
| 2024 October 13, Sunday | 9:30pm | * | The moon is bright |
| 2024 October 15, Tuesday | 9:30pm | * | The moon is bright |
| 2024 October 17, Thursday | 9:30pm | * | The moon is bright |
| 2024 October 20, Sunday | 9:30pm | ***** | |
| 2024 October 22, Tuesday | 9:30pm | ***** | |
| 2024 October 24, Thursday | 10:00pm | ***** | |
| 2024 October 27, Sunday | 10:00pm | ***** | |
| 2024 October 29, Tuesday | 10:00pm | ***** | |
| 2024 October 31, Thursday | 10:00pm | ***** | |
| 2024 November 03, Sunday | 10:00pm | ***** | |
| 2024 November 05, Tuesday | 10:00pm | ***** | |
| 2024 November 07, Thursday | 10:30pm | ***** | |
| 2024 November 10, Sunday | 10:30pm | *** | The moon is bright |
| 2024 November 12, Tuesday | 10:30pm | * | The moon is bright |
| 2024 November 14, Thursday | 10:30pm | * | The moon is bright |
| 2024 November 17, Sunday | 10:30pm | ***** | |
| 2024 November 19, Tuesday | 10:30pm | ***** | |
| 2024 November 21, Thursday | 10:30pm | *** | The moon is bright |
| 2024 November 24, Sunday | 10:30pm | *** | The moon is bright |
| 2024 November 26, Tuesday | 10:30pm | *** | The moon is bright |
| 2024 November 28, Thursday | 10:30pm | *** | The moon is bright |
| 2024 December 01, Sunday | 11:00pm | * | No scheduled tour. Must pre-book private tour in advance. |
| 2024 December 03, Tuesday | 11:00pm | * | No scheduled tour. Must pre-book private tour in advance. |
| 2024 December 05, Thursday | 11:00pm | * | No scheduled tour. Must pre-book private tour in advance. |
| 2024 December 08, Sunday | 11:00pm | * | No scheduled tour. Must pre-book private tour in advance. |
| 2024 December 10, Tuesday | 11:00pm | * | No scheduled tour. Must pre-book private tour in advance. |
| 2024 December 12, Thursday | 11:00pm | * | No scheduled tour. Must pre-book private tour in advance. |
| 2024 December 15, Sunday | 11:00pm | * | No scheduled tour. Must pre-book private tour in advance. |
| 2024 December 17, Tuesday | 11:00pm | * | No scheduled tour. Must pre-book private tour in advance. |
| 2024 December 19, Thursday | 11:00pm | * | No scheduled tour. Must pre-book private tour in advance. |
| 2024 December 22, Sunday | 11:00pm | * | No scheduled tour. Must pre-book private tour in advance. |
| 2024 December 24, Tuesday | 11:00pm | * | No scheduled tour. Must pre-book private tour in advance. |
| 2024 December 26, Thursday | 11:00pm | * | No scheduled tour. Must pre-book private tour in advance. |
| 2024 December 29, Sunday | 11:00pm | * | No scheduled tour. Must pre-book private tour in advance. |
| 2024 December 31, Tuesday | 11:00pm | * | No scheduled tour. Must pre-book private tour in advance. |
| 2025 January 02, Thursday | 11:00pm | * | No scheduled tour. Must pre-book private tour in advance. |
| 2025 January 05, Sunday | 11:00pm | * | No scheduled tour. Must pre-book private tour in advance. |
| 2025 January 07, Tuesday | 11:00pm | * | No scheduled tour. Must pre-book private tour in advance. |
| 2025 January 09, Thursday | 11:00pm | * | No scheduled tour. Must pre-book private tour in advance. |
| 2025 January 12, Sunday | 11:00pm | * | No scheduled tour. Must pre-book private tour in advance. |
| 2025 January 14, Tuesday | 11:00pm | * | No scheduled tour. Must pre-book private tour in advance. |
| 2025 January 16, Thursday | 11:00pm | * | No scheduled tour. Must pre-book private tour in advance. |
| 2025 January 19, Sunday | 11:00pm | * | No scheduled tour. Must pre-book private tour in advance. |
| 2025 January 21, Tuesday | 11:00pm | * | No scheduled tour. Must pre-book private tour in advance. |
| 2025 January 23, Thursday | 11:00pm | * | No scheduled tour. Must pre-book private tour in advance. |
| 2025 January 26, Sunday | 11:00pm | * | No scheduled tour. Must pre-book private tour in advance. |
| 2025 January 28, Tuesday | 11:00pm | * | No scheduled tour. Must pre-book private tour in advance. |
| 2025 January 30, Thursday | 11:00pm | * | No scheduled tour. Must pre-book private tour in advance. |
| 2025 February 02, Sunday | 10:30pm | ***** | |
| 2025 February 04, Tuesday | 10:30pm | ***** | |
| 2025 February 06, Thursday | 10:30pm | *** | The moon is bright |
| 2025 February 09, Sunday | 10:30pm | * | The moon is bright |
| 2025 February 11, Tuesday | 10:30pm | * | The moon is bright |
| 2025 February 13, Thursday | 10:30pm | * | The moon is bright |
| 2025 February 16, Sunday | 10:30pm | *** | The moon is bright |
| 2025 February 18, Tuesday | 10:00pm | ***** | |
| 2025 February 20, Thursday | 10:00pm | ***** | |
| 2025 February 23, Sunday | 10:00pm | ***** | |
| 2025 February 25, Tuesday | 10:00pm | ***** | |
| 2025 February 27, Thursday | 10:00pm | ***** | |
| 2025 March 02, Sunday | 10:00pm | ***** | |
| 2025 March 04, Tuesday | 10:00pm | ***** | |
| 2025 March 06, Thursday | 9:30pm | *** | The moon is bright |
| 2025 March 09, Sunday | 9:30pm | * | The moon is bright |
| 2025 March 11, Tuesday | 9:30pm | * | The moon is bright |
| 2025 March 13, Thursday | 9:30pm | * | The moon is bright |
| 2025 March 16, Sunday | 9:30pm | * | The moon is bright |
| 2025 March 18, Tuesday | 9:30pm | *** | The moon is bright |
| 2025 March 20, Thursday | 9:00pm | ***** | |
| 2025 March 23, Sunday | 9:00pm | ***** | |
| 2025 March 25, Tuesday | 9:00pm | ***** | |
| 2025 March 27, Thursday | 9:00pm | ***** | |
| 2025 March 30, Sunday | 9:00pm | ***** | |
| 2025 April 01, Tuesday | 9:00pm | ***** | |
| 2025 April 03, Thursday | 9:00pm | ***** | |
| 2025 April 06, Sunday | 8:45pm | *** | The moon is bright |
| 2025 April 08, Tuesday | 8:45pm | * | The moon is bright |
| 2025 April 10, Thursday | 8:45pm | * | The moon is bright |
| 2025 April 13, Sunday | 8:45pm | * | The moon is bright |
| 2025 April 15, Tuesday | 8:45pm | * | The moon is bright |
| 2025 April 17, Thursday | 8:45pm | *** | The moon is bright |
| 2025 April 20, Sunday | 8:45pm | ***** | |
| 2025 April 22, Tuesday | 8:45pm | ***** | |
| 2025 April 24, Thursday | 8:45pm | ***** | |
| 2025 April 27, Sunday | 8:45pm | ***** | |
| 2025 April 29, Tuesday | 8:45pm | ***** | |
| 2025 May 01, Thursday | 8:45pm | ***** | |
| 2025 May 04, Sunday | 8:45pm | *** | The moon is bright |
| 2025 May 06, Tuesday | 8:45pm | *** | The moon is bright |
| 2025 May 08, Thursday | 8:45pm | * | The moon is bright |
| 2025 May 11, Sunday | 8:45pm | * | The moon is bright |
| 2025 May 13, Tuesday | 8:45pm | * | The moon is bright |
| 2025 May 15, Thursday | 8:45pm | * | The moon is bright |
| 2025 May 18, Sunday | 8:45pm | ***** | |
| 2025 May 20, Tuesday | 8:45pm | ***** | |
| 2025 May 22, Thursday | 8:45pm | ***** | |
| 2025 May 25, Sunday | 8:45pm | ***** | |
| 2025 May 27, Tuesday | 8:45pm | ***** | |
| 2025 May 29, Thursday | 8:45pm | ***** | |
| 2025 June 01, Sunday | 8:45pm | ***** | |
| 2025 June 03, Tuesday | 8:45pm | *** | The moon is bright |
| 2025 June 05, Thursday | 8:45pm | * | The moon is bright |
| 2025 June 08, Sunday | 8:45pm | * | The moon is bright |
| 2025 June 10, Tuesday | 8:45pm | * | The moon is bright |
| 2025 June 12, Thursday | 8:45pm | * | The moon is bright |
| 2025 June 15, Sunday | 8:45pm | ***** | |
| 2025 June 17, Tuesday | 8:45pm | ***** | |
| 2025 June 19, Thursday | 8:45pm | ***** | |
| 2025 June 22, Sunday | 8:45pm | ***** | |
| 2025 June 24, Tuesday | 8:45pm | ***** | |
| 2025 June 26, Thursday | 8:45pm | ***** | |
| 2025 June 29, Sunday | 8:45pm | ***** | |
| 2025 July 01, Tuesday | 8:45pm | ***** | |
| 2025 July 03, Thursday | 8:45pm | *** | The moon is bright |
| 2025 July 06, Sunday | 8:45pm | * | The moon is bright |
| 2025 July 08, Tuesday | 8:45pm | * | The moon is bright |
| 2025 July 10, Thursday | 8:45pm | * | The moon is bright |
| 2025 July 13, Sunday | 8:45pm | * | The moon is bright |
| 2025 July 15, Tuesday | 8:45pm | ***** | |
| 2025 July 17, Thursday | 8:45pm | ***** | |
| 2025 July 20, Sunday | 8:45pm | ***** | |
| 2025 July 22, Tuesday | 8:45pm | ***** | |
| 2025 July 24, Thursday | 8:45pm | ***** | |
| 2025 July 27, Sunday | 8:45pm | ***** | |
| 2025 July 29, Tuesday | 8:45pm | ***** | |
| 2025 July 31, Thursday | 8:45pm | ***** | |
| 2025 August 03, Sunday | 8:45pm | *** | The moon is bright |
| 2025 August 05, Tuesday | 8:45pm | * | The moon is bright |
| 2025 August 07, Thursday | 8:45pm | * | The moon is bright |
| 2025 August 10, Sunday | 8:45pm | * | The moon is bright |
| 2025 August 12, Tuesday | 8:45pm | ***** | |
| 2025 August 14, Thursday | 8:45pm | ***** | |
| 2025 August 17, Sunday | 8:45pm | ***** | |
| 2025 August 19, Tuesday | 8:45pm | ***** | |
| 2025 August 21, Thursday | 8:45pm | ***** | |
| 2025 August 24, Sunday | 8:45pm | ***** | |
| 2025 August 26, Tuesday | 8:45pm | ***** | |
| 2025 August 28, Thursday | 8:45pm | ***** | |
| 2025 August 31, Sunday | 8:45pm | *** | The moon is bright |
| 2025 September 02, Tuesday | 8:45pm | *** | The moon is bright |
| 2025 September 04, Thursday | 8:45pm | * | The moon is bright |
| 2025 September 07, Sunday | 8:45pm | * | The moon is bright |
| 2025 September 09, Tuesday | 8:45pm | *** | The moon is bright |
| 2025 September 11, Thursday | 8:45pm | ***** | |
| 2025 September 14, Sunday | 8:45pm | ***** | |
| 2025 September 16, Tuesday | 8:45pm | ***** | |
| 2025 September 18, Thursday | 8:45pm | ***** | |
| 2025 September 21, Sunday | 8:45pm | ***** | |
| 2025 September 23, Tuesday | 8:45pm | ***** | |
| 2025 September 25, Thursday | 8:45pm | ***** | |
| 2025 September 28, Sunday | 9:00pm | ***** | |
| 2025 September 30, Tuesday | 9:00pm | *** | The moon is bright |
| 2025 October 02, Thursday | 9:00pm | * | The moon is bright |
| 2025 October 05, Sunday | 9:30pm | * | The moon is bright |
| 2025 October 07, Tuesday | 9:30pm | * | The moon is bright |
| 2025 October 09, Thursday | 9:30pm | ***** | |
| 2025 October 12, Sunday | 9:30pm | ***** | |
| 2025 October 14, Tuesday | 9:30pm | ***** | |
| 2025 October 16, Thursday | 9:30pm | ***** | |
| 2025 October 19, Sunday | 9:30pm | ***** | |
| 2025 October 21, Tuesday | 9:30pm | ***** | |
| 2025 October 23, Thursday | 10:00pm | ***** | |
| 2025 October 26, Sunday | 10:00pm | ***** | |
| 2025 October 28, Tuesday | 10:00pm | ***** | |
| 2025 October 30, Thursday | 10:00pm | *** | The moon is bright |
| 2025 November 02, Sunday | 10:00pm | * | The moon is bright |
| 2025 November 04, Tuesday | 10:00pm | * | The moon is bright |
| 2025 November 06, Thursday | 10:00pm | ***** | |
| 2025 November 09, Sunday | 10:30pm | ***** | |
| 2025 November 11, Tuesday | 10:30pm | ***** | |
| 2025 November 13, Thursday | 10:30pm | ***** | |
| 2025 November 16, Sunday | 10:30pm | ***** | |
| 2025 November 18, Tuesday | 10:30pm | ***** | |
| 2025 November 20, Thursday | 10:30pm | ***** | |
| 2025 November 23, Sunday | 10:30pm | ***** | |
| 2025 November 25, Tuesday | 10:30pm | ***** | |
| 2025 November 27, Thursday | 10:30pm | ***** | |
| 2025 November 30, Sunday | 10:30pm | * | The moon is bright |
| 2025 December 02, Tuesday | 11:00pm | * | No guide available / please contact reception |
| 2025 December 04, Thursday | 11:00pm | * | No guide available / please contact reception |
| 2025 December 07, Sunday | 11:00pm | * | No guide available / please contact reception |
| 2025 December 09, Tuesday | 11:00pm | * | No guide available / please contact reception |
| 2025 December 11, Thursday | 11:00pm | * | No guide available / please contact reception |
| 2025 December 14, Sunday | 11:00pm | * | No guide available / please contact reception |
| 2025 December 16, Tuesday | 11:00pm | * | No guide available / please contact reception |
| 2025 December 18, Thursday | 11:00pm | * | No guide available / please contact reception |
| 2025 December 21, Sunday | 11:00pm | * | No guide available / please contact reception |
| 2025 December 23, Tuesday | 11:00pm | * | No guide available / please contact reception |
| 2025 December 25, Thursday | 11:00pm | * | No guide available / please contact reception |
| 2025 December 28, Sunday | 11:00pm | * | No guide available / please contact reception |
| 2025 December 30, Tuesday | 11:00pm | * | No guide available / please contact reception |